Side-by-side WebKitX Versions
Since May 2019 WebKitX supports side-by-side deployment with binary-compatibility break.
Version 1.x and 2.x have been binary-compatible from Jan 2018 till May 2019, by preserving the same ProgID and CLSID.
Starting with version 1.5.x and 2.1.x we introduce new ProgIDs and CLSIDs for the ActiveX Library, ISettings interface, IWebKitX interface, IWebKitXEvents interface and the two CoClasses WebKitXCEF3 and Settings.
Please note that 32-bit and 64-bit controls have the same ProgID and CLSID per version.
Version 1.x ProgID remains WEBKITXCEF3.WebKitXCEF3Ctrl.1
Version 2.x ProgID is changed to WEBKITXCEF3.WebKitXCEF3Ctrl.2
Version 2.x for Windows XP ProgID is changed to WEBKITXCEF3.WebKitXCEF3Ctrl.3 (even though it is version 2.x)
WebKitX CLSIDs

// V1


#if

 defined(CEF_3282_CHROMIUM_64)


#define

 VERSION 1.0


#define

 LIBRARY_NAME "mobileFX WebKitX CEF3 ActiveX 1.x"


#define

 GUID_LIBRARY 316AC43B-854D-415B-AC7D-637569B2D263


#define

 GUID_ISETTINGS 9B527943-9DF8-479A-8BE7-DEBF8BBD5A42


#define

 GUID_IWEBKITX 0A76D3F3-A67A-4267-AB1C-884DD2CAF047


#define

 GUID_IWEBKITXEVENTS 745E887A-EF5D-4F67-A211-AFA70BDA4A9E


#define

 GUID_WEBKITXCEF3 DFF43867-EAC5-4170-96B0-265A91723BCA


#define

 GUID_SETTINGS 9CC49284-7BCE-4BB1-9FE9-A8CFC1029CD2


// V2


#elif

 defined(CEF_3587_CHROMIUM_71)


#define

 VERSION 2.0


#define

 LIBRARY_NAME "mobileFX WebKitX CEF3 ActiveX 2.x"


#define

 GUID_LIBRARY FF201EB4-04A9-48FA-93BD-8ADC3A9860F1


#define

 GUID_ISETTINGS FF05E010-A7B4-4B1D-A701-BC7CFD91302F


#define

 GUID_IWEBKITX FFA709E0-EAEE-4876-94BF-5AD95197AA09


#define

 GUID_IWEBKITXEVENTS FF67149E-97B9-4C23-B142-FE4FB0A3FBF1


#define

 GUID_WEBKITXCEF3 FF54A4CA-11BE-4F39-8D4C-911854B28AAE


#define

 GUID_SETTINGS FF697F35-B04B-43A1-B7F4-D7136BF214C9


// V2 - XP


#elif

 defined(CEF_2623_CHROMIUM_49)


#define

 VERSION 3.0


#define

 LIBRARY_NAME "mobileFX WebKitX CEF3 ActiveX 2.x - XP"


#define

 GUID_LIBRARY FF718647-8082-4E44-BAFF-1C322BF93FED


#define

 GUID_ISETTINGS FF5718CA-1AE5-44D4-957B-FFE5BB710175


#define

 GUID_IWEBKITX FFB54ECF-782C-4AFC-93EE-1FB3A7808DE6


#define

 GUID_IWEBKITXEVENTS FF7CD841-611B-4F60-B9EB-8A4BA20AFB5B


#define

 GUID_WEBKITXCEF3 FFEF9F18-ACBB-44FD-A921-49904D397618


#define

 GUID_SETTINGS FF7BCEB7-6449-41B1-80E8-F64ED3F54CF1


#endif
If you register all WebKitX versions in registry you will notice the following Keys:

Side-by-side WebKitX versions in Windows Registry
Loading specific WebKitX Version in Visual Basic 6.0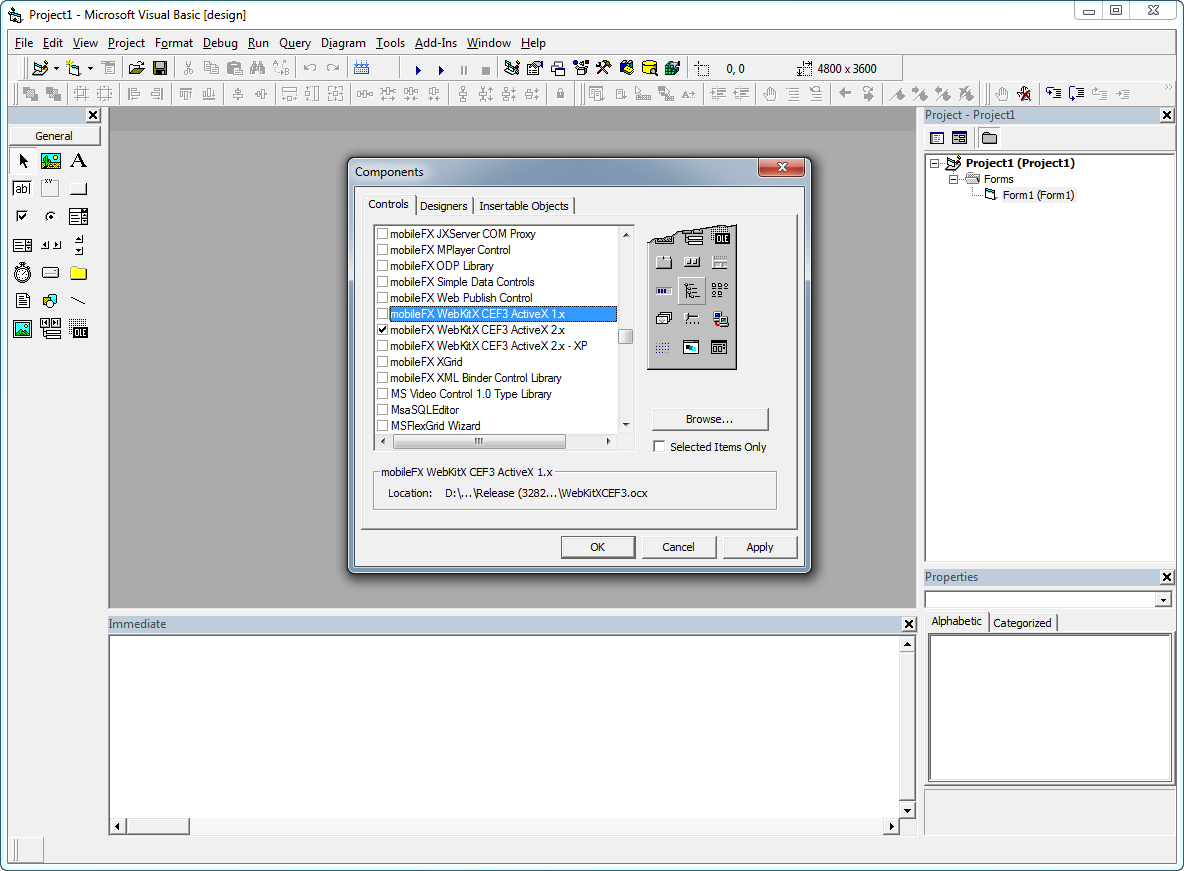 Side-by-side WebKitX versions in Visual Basic 6.0 Components Dialogue
Instantiating WebKitX version programmatically in Visual Basic 6.0
Side-by-side WebKitX version instantiated programmatically